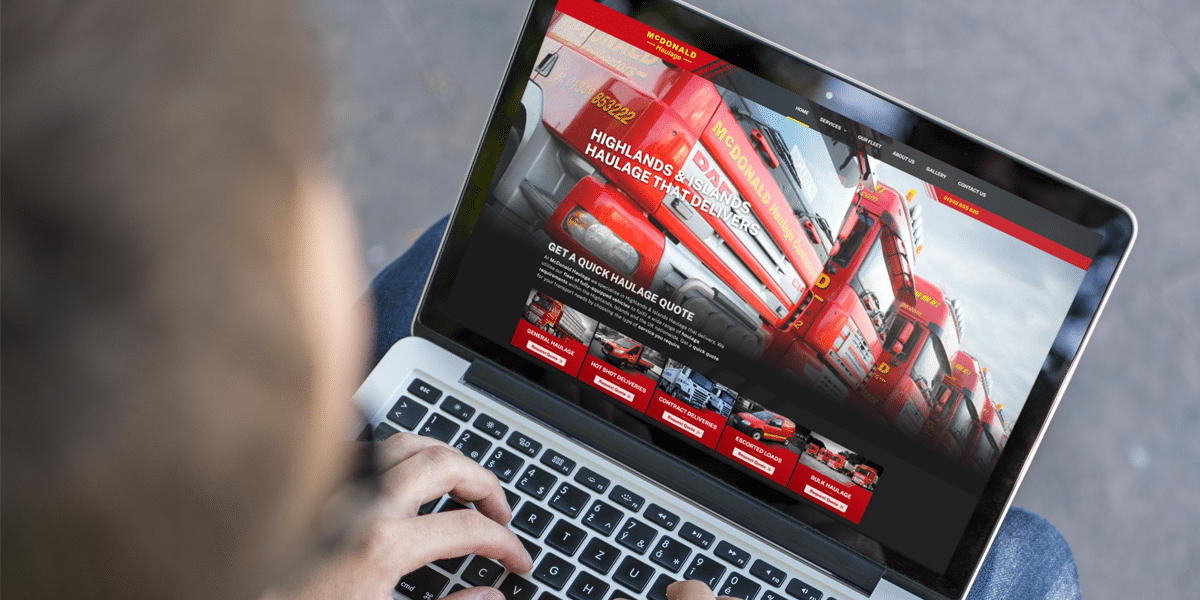 Case Study – McDonald Haulage
Velocity Design have recently completed a new online platform for local firm McDonald Haulage.
McDonald Haulage is a Scottish road haulage firm based in Invergordon, just north of Inverness and part of McDonald Group. Their instantly recognisable fleet of lorries, trucks and vans can be often be seen making journeys between the Highlands, Islands and further south into the Central Belt and throughout the rest of the UK.
The team at McDonald Haulage were looking to expand their services and fleet, so engaged with Velocity Design, who they had already worked with, to yet again benefit from our Digital Marketing experise. Since the firm works within a wide variety of industries, the digital campaign needed to be broad enough to cover all of the sectors, while still relaying McDonald Haulage's impressive technical specifications that transport operators would look for.
Keeping with the company's group branding, the site's design incorporates a bold, industrial visual style. The red, yellow and black theme is consistent throughout, mirroring the livery of the firm's fleet and their sister organisation, mcdonaldscaffolding.com
Mike McDonald said "We're delighted with the results, yet again, another great website – a big thank you to the team. We've now been working with Velocity Design for over 8 years with all aspects of our Marketing – the standard and quality of their work to is second to none – customer service is excellent and nothing is too much trouble – but more importantly, they get results."
The website has been built with Google in mind from the outset. Our team undertook comprehensive research in terms of search term and competitor analysis – ensuring from day 1, the website was 'Google-tastic'.
Check out McDonald Haulage online, and keep an eye out for their recognisable red trucks next time you're on the road!
And if you would like to find out more about improving your business' online presence, our friendly, expert team will be happy to offer help and advice — contact Velocity.Design today at engage@velocitydesign.co.uk or call us on 01463 861467.