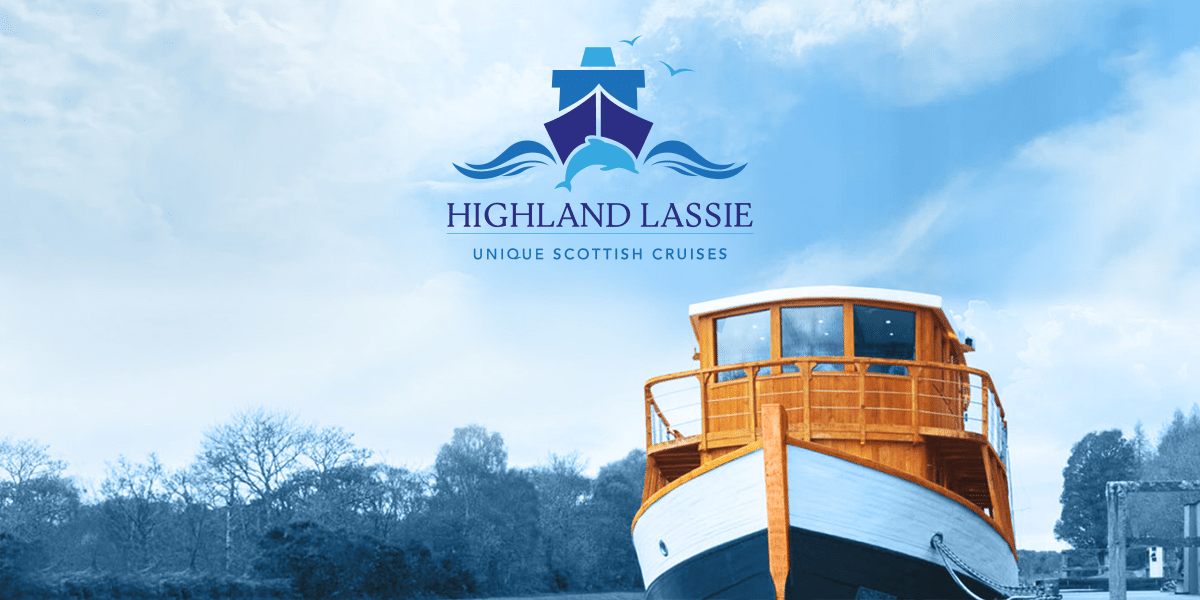 Case Study – Highland Lassie Cruises
In early 2020 Highland Lassie Cruises approached the Velocity Design team intending to collaboratively improve and develop a new website for their floating hotel and restaurant service.
Around this time, the Oakwood Restaurant had recently been relocated onboard the Highland Lassie. The Oakwood Restaurant was widely known for its incredible Scottish cuisine and many visitors to Loch Ness would make this their go-to dining experience. Combine this with the only fishing boat in Scotland that was allowed to remain whole once decommissioned you have a truly unique experience. The historic fishing boat that would have once caught your cod and haddock now serves it to you surrounded by the stunning Scottish scenery and with lavish cabins for overnight stays.

When Highland Lassie first approached Velocity Design, they had already worked with a web design team and had a functioning website, however, the brand was not performing to the best of its capabilities. The reason Highland Lassie came to Velocity Design was that they wanted to build a website that was not only visually stunning and easily accessed on any device, but also could be updated by their own team members. This was crucial because as a fully functioning hotel and restaurant business, they wanted to keep potential customers updated on specials, new menus, events and booking deals available onboard.
The Velocity Design team jumped straight into the website design and booking system functionality which needed to be intricately managed since what was expected of it was incredibly complex for one system. Since Highland Lassie offer cruises, overnight stays and the restaurant service, the booking engine needed to be able to not only take reservations but also cross information so that clients did not book with the restaurant when the hotel was away on their cruise. Now the Highland Lassie's booking engine is beautifully presented within the website design itself and was custom created to fit the nautical theme of the webpage's personality.
Velocity Design is still collaborating with Highland Lassie Cruises to update and maintain their website as COVID-19 restrictions are implicated and eased. The team are very excited to be working with Highland Lassie as they update their overnight cabins and we will be on hand for any new photography needs that will enhance the website's identity as well as being easily reached by phone or email for any IT issues.

SEO and site performance from neilpatel.com
As we look to collaborating in the future, Highland Lassie will be joining Velocity Design as an SEO client and even though they are not currently one, their website is now fully SEO optimised. Their website's performance within search engines is already increasing and will continue to do so as the teams work together.
The above screenshot shows the result of an independent SEO audit as well as the result of a website speed and performance test. Curious as to how SEO unlocks your website's full potential? Read our "Why Your Business Needs Expert SEO Services" article to discover what SEO can do for your website's visibility within Google and how to optimise your online presence.
Gaby Glue, owner of Highland Lassie Cruises, had the following to say about her experience working with Velocity:
"Velocity was recommended to us. I confess to some trepidation coming up to our meeting as we have had several bad experiences with web designers (so-called) and parted with well over £7,000 over the last 3 years with 3 different companies that produced websites that were unexceptional and lacking a market presence.
I found that Velocity not only knew what I needed, but they were also able to anticipate our needs starting by improving our logo. Having spent so much money in the past and realising I would have to spend out again you can imagine I was sceptical going forward, however, their friendly & professional service along with practical advice has led to an amazing website for what can only be described as a complex business model. The site is informative and un-muddled, drawing you in on every link you click.
Velocity's pricing seemed to me at first glance expensive, but I am proof that without a truly professional service money can be wasted with absolutely no return at all, here the result will improve my company's visibility giving me a stunning website to match my stunning product.
For us, the pandemic made it a must to have an excellent presence online or fall behind. The financial burden was eased by taking on a payment plan with Velocity which although worrisome at the time was a sound business decision, and will be in the long term as we continue to work with them. Highly recommended."

Velocity Design will continue to work with Highland Lassie Cruises to develop its brand identity and boost sales across each aspect of its business. We look forward to supporting the Highland Lassie team as they continue to dedicate themselves to providing top quality Scottish cuisine and unique floating hotel vacations. Visit Highland Lassie Cruises at https://highlandlassiecruises.com/ and be sure to check out their latest news and booking availability.
If this sounds like the kind of support your business would benefit from then our friendly, expert team will be more than happy to offer help and advice — contact Velocity.Design today at engage@velocitydesign.co.uk or call us on 01463 861467.