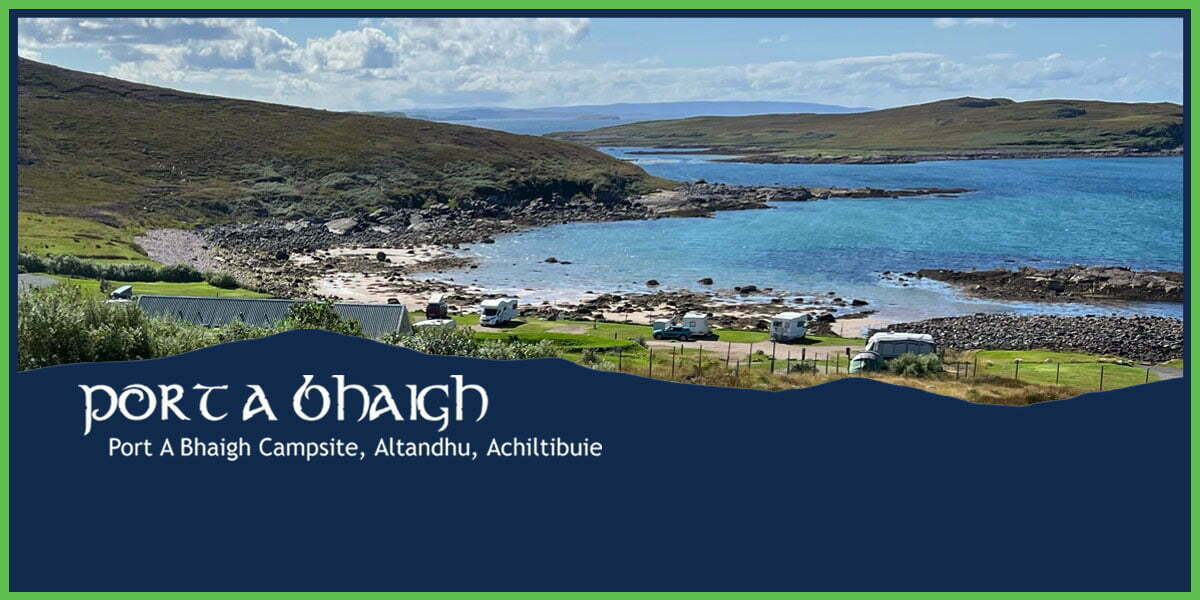 Case Study – Port A Bhaigh Campsite
Velocity was recently entrusted with a full website redesign for Port a Bhaigh Campsite near Achiltibuie on Scotland's northwest coast.
The scenic campsite, with beautiful coastal views over the Summer Isles, has been in business since 2009. Prior to this, Port a Bhaigh was a family croft, cultivating livestock and vegetables over several generations. Today that same family who owned the croft owns and operates Port a Bhaigh Campsite. One can sense that the passion for homegrown and local produce, nurtured by life on the croft, lives on in the family's hospitality. This is particularly evident to campsite guests who stop for refreshment at the local Am Fuaran Bar—the traditional, coastal bar under the same ownership as Port a Bhaigh. Camping at Port a Bhaigh and testing the menus at Am Fuaran will give you an authentic taste of Scotland's stunning west coast.
Port a Bhaigh's owners came to Velocity Design seeking a new and improved website. This new website needed to better represent the beauty and charm of their coastal campsite while clearly communicating all the necessary information in a mobile-first format. Port a Bhaigh's previous website was functional but outdated and uninspiring. The new website, designed by Velocity, would provide a complete visual re-design and freshly structured sitemap, with new and engaging copywriting to articulate Port a Bhaigh's best assets. New imagery and drone footage would be supplied by the client to further freshen up the website's content.
To kick off the website re-design process, Port a Bhaigh's owners talked to the Velocity team about their vision for the new website. This initial briefing made sure everyone was on the same page and that the client's goals were prioritised from the outset. At this initial briefing, it was established that the new website should embrace the rustic character of Scotland's west coast in a clean and contemporary style. The client wished to avoid a cluttered or overly complicated layout, instead, favouring a spacious and scenic design mimicking the tranquillity of their rural campsite location.
As well as establishing a clear brief for the visual design of the new website, the Velocity team arranged a consultation with the client to talk about all things text. At this stage Velocity's copywriters collected an up-to-date list of facts and figures about Port a Bhaigh to ensure all information on the new website would be correct. Key features and facilities of the campsite were also discussed in depth. Establishing a thorough knowledge of the campsite and all its appeal would allow Velocity to structure the new website appropriately; a sensible sitemap ensures web visitors find the information they need quickly and easily.

With the brief firmly understood Velocity's web design team got to work designing the visuals based on the newly determined sitemap. This included setting a colour scheme, selecting fonts, and ascertaining the overall look and feel of each page. For Port a Bhaigh's new website shades of blue, yellow, and green dominate the design. These coastal colours, paired with undulating dividing lines, are suggestive of the rugged terrain found around Port a Bhaigh and the Coigach Peninsula. Moreover, the fonts used across the website are somewhat reminiscent of the insular script typefaces used for printing classical Gaelic. This pays homage to the campsite's Gaelic name and the area's wider connections with Gaelic culture.
Once Velocity's initial design mock-up was complete and approved by the client, the web development team began making the new website a reality. While adding images and long-form copy to the website our technical SEO experts were on hand to ensure fast loading speeds and great user experience. These are just some of the numerous technical optimisations search engines look for in a strong website. In the image below, taken from an independent SEO audit of Port a Bhaigh's new website, site speed and performance analysis confirm the successful outcome of optimisation.

SEO and site performance from neilpatel.com
Now that this website re-design project for Port a Bhaigh Campsite is launched, the Velocity team are excited to continue collaborating with the client. We will shortly commence work on a website re-design for the Am Fuaran Bar; the coastal bar located a stone's throw from Port a Bhaigh Campsite. We look forward to establishing a beautiful set of websites for these rural businesses and helping them connect with future guests. Speaking of guests, if you'll be visiting the west coast, be sure to stay the night at beautiful Port a Bhaigh!
If you have an old website in need of some TLC, Velocity can revitalise your brand's online presence. From simple re-designs and reliable hosting to comprehensive packages of design, SEO, print, and social media; let us find the best solution for your business. Drop us an email at engage@velocitydesign.co.uk, or speak to us on 01463 861467 to arrange a free consultation.