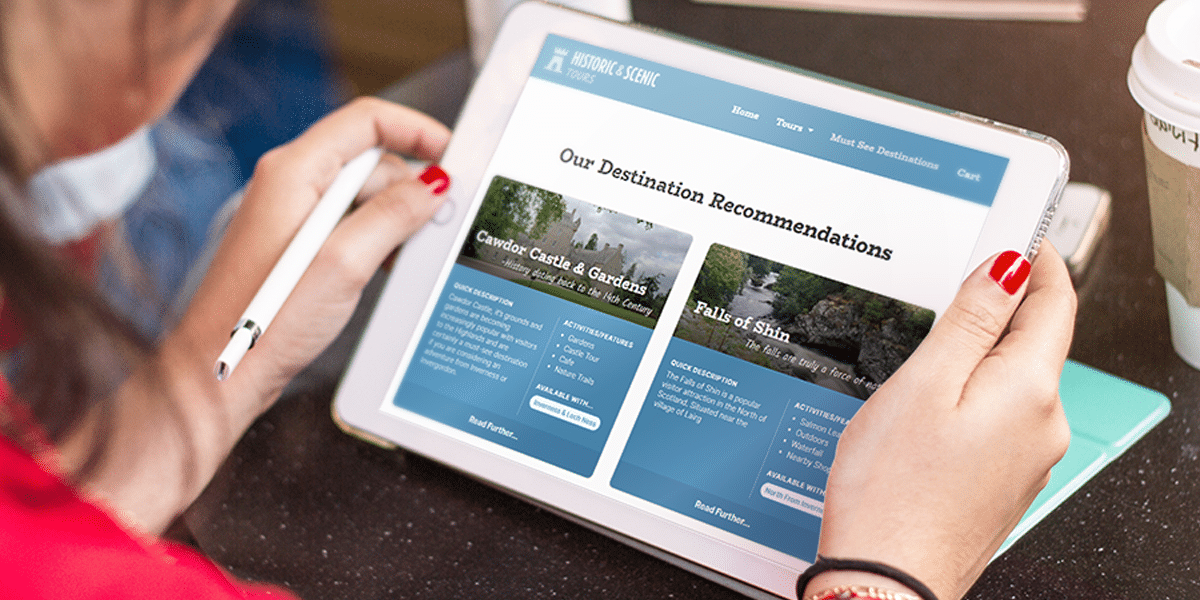 Case Study – Historic & Scenic Tours Inverness
Velocity Design were recently asked by Historic & Scenic Tours Inverness to design and build a new online platform for their tour business.
Historic & Scenic Tours offer private tours of the Highlands for visitors to the Inverness area. Using their fleet of modern and comfortable vehicles, the friendly, local guides pick up tour passengers from their place of stay in Inverness or from the cruise port in Invergordon and take them on their own Highland adventure.
The site needed to really show off the beauty of the Highlands and promote the breathtaking stops on each tour. Our designers incorporated subtle shapes and colours into the visual design of the site, with mountain silhouettes and pine trees framing shots of the locations on offer.
Site visitors can navigate through the various tour options, browse photographs, read tour descriptions and see a schedule of the tour itinerary, before choosing a date and vehicle for their tour. The site has full e-commerce integration, allowing visitors to book their tour online and pay using a secure payment gateway.
The site is fully responsive but also has a dedicated mobile version to ensure great functionality and speed when viewed on mobile devices.
The Velocity team really enjoyed working on this project for Historic & Scenic Tours and look forward to supporting the site's growth and success going forward.
Check out Historic & Scenic Tours Inverness today and perhaps book your own Highland adventure – even if you're a local, there's always something new to discover!