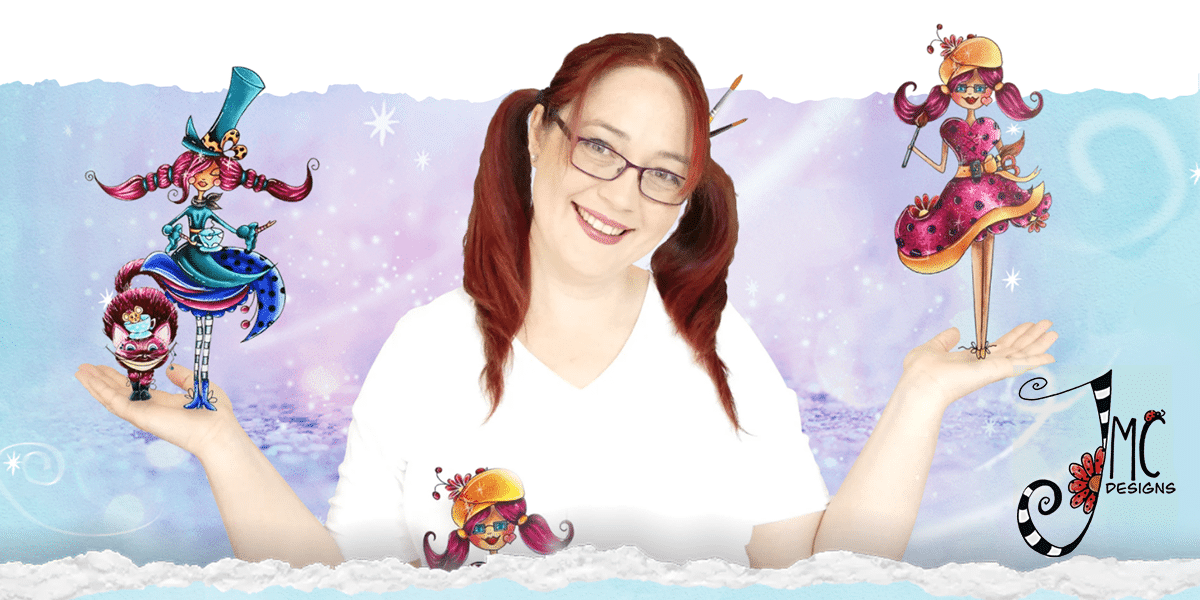 Case Study – JMC Designs
The team at Velocity Design is proud to be working with Julia McNeill of JMC Designs, a papercraft supplies and card-making artist based in the Scottish Highlands.
Since collaborating in 2019, Velocity Design and JMC Designs have worked together to renovate and strengthen their online website, drive their webpage's engagement with clientele and bring down the overall cost of production.
Julia McNeill started JMC Designs as a way to experiment with card making and to bring her characters, scenes, and collections to life for everyone to enjoy. When JMC Designs first contacted Velocity Design, the aim was to improve the branding and presentation of the products and collections on offer. Previously, JMC Designs had worked with a small business service company and through this JMC Designs purchased a basic website template that was not performing at the top level within Google's search engine.





The team at Velocity Design dived into market research and worked closely with JMC Designs to deliver a new bespoke designed website. Incorporating an eyecatching and exuberant persona with an easily accessed online shop, the website now allows visitors to purchase unique creations and craft supplies. The website now not only focuses on bolstering the brand's identity but is richer in content and features like tutorials, how-to guides, and JMC Designs inclusive online shop which can accommodate both local and international sales.
Their new website is both visually striking and user-friendly on any device. The bold illustrations, vivid displays, and font style give the business' website a friendly and inviting online presence that is easily distinguishable amongst the crafting community.




Thanks to the collaborative efforts made by JMC Designs and Velocity Design, their website's online traffic has increased exponentially, and there has been a huge uplift of interest and sales in the business. The team at Velocity Design at excited to be partnering with JMC Designs and moving forward with marketing strategies that will continue to enhance the brand's online presence. Through social media, maximising SEO performance, and continual collaborative brand development, Velocity Design aims to maintain this rapid growth in sales.



SEO and site performance from neilpatel.com
The above screenshot shows the result of an independent SEO audit as well as the result of a website speed and performance test. Ever wondered how the performance of a site affects SEO? Read our "Attack Of The Killer Rankings" article to discover a few of the hidden benchmarks are used by Google to determine your site's search position.
Julia McNeill, the founder of JMC Designs, says:
"I am absolutely thrilled with my experience at Velocity. I know my industry well and the quality of product that I want my business to produce, but as regard the technical know-how of how to achieve what I wanted this was all new to me. I really appreciated the guidance, knowledge, experience that Velocity design provided. Their prices are really competitive .. (believe me I shopped around!!) and they worked hard to get the best quality and best prices for my needs, they were also upfront with their pricing I knew exactly what my bill would be there were no hidden costs.

The thing I appreciated most was the personal touch, The fact they took time to get to know me and my needs. They even spent time doing their own research into my industry to get to know my needs better.

I am thrilled with the finished result of my product and I am going to be coming back to Velocity Design again and again .. I honestly can't rate them highly enough."

Velocity Design will continue to work with JMC Designs to boost its products and brand identity across not only local but international audiences. We look forward to supporting JMC Designs in their continual development as the business thrives. Visit JMC Designs at www.jmcdesigns.co.uk and be sure to check out their latest news, tutorials, and collections available for you to buy now.
If this sounds like the kind of support your business would benefit from then our friendly, expert team will be more than happy to offer help and advice. Whether it be improving your online presence, boosting sales and brand identity, or the whole package — contact Velocity.Design today at  engage@velocitydesign.co.uk or call us on 01463 861467.