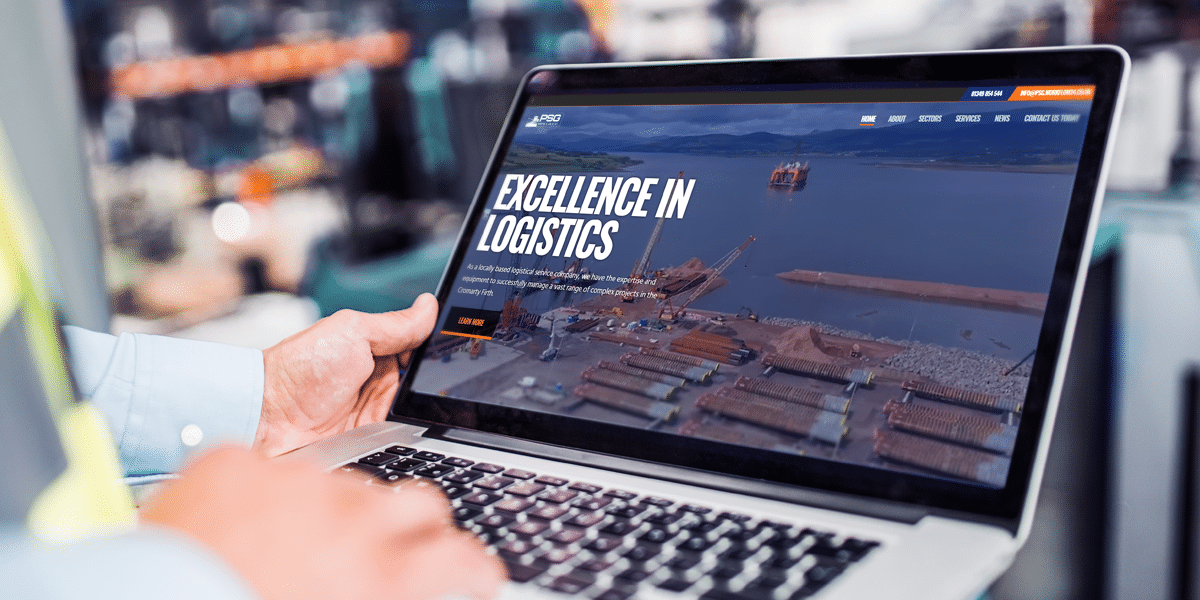 Case Study – PSG Marine & Logistics
Velocity Design have recently launched the new online web presence of PSG Marine & Logistics, a major deepwater support facility located in Invergordon. 
PSG offers a comprehensive suite of logistical support services, port agency and marine logistics solutions to the oil & gas, renewable and decommissioning sectors from their case in Invergordon on the Cromarty Firth. Working within a fast-paced energy sector, PSG deals with such well-known clients as Siemens, DEME and Seaway7 and provides numerous complex services from marine logistics to heavy lift & transport operations.
Velocity began working with PSG 2017, and since then has gone on to support the firm fully with a suite of branding, web, print and marketing materials. As a full-service web design and marketing agency, Velocity has taken the time to deeply research PSG so that everything produced from digital assets through to print and marketing collateral performs at a competitive industry level.
"I needed a company that would do everything for us, which is exactly what Velocity is. I knew the brand needed a combination of online and offline materials but didn't have time to go to loads of different places or research different providers. The team made it simple to understand what our options were and nothing was a hassle. Velocity spent the time getting to know what we do and about our history so that what they produced for us was absolutely spot on. This has meant I can concentrate on the business and our new projects which are now underway."

Steve Clark, Managing Director, PSG Marine & Logistics Ltd
The Velocity team designed the site to complement the heavy industrial sectors PSG works within, with bold colours, large headlines and squared edges.  PSG's new site fully showcases the firm's diverse range of services, the sectors that they operate in as well as information on their past & special projects.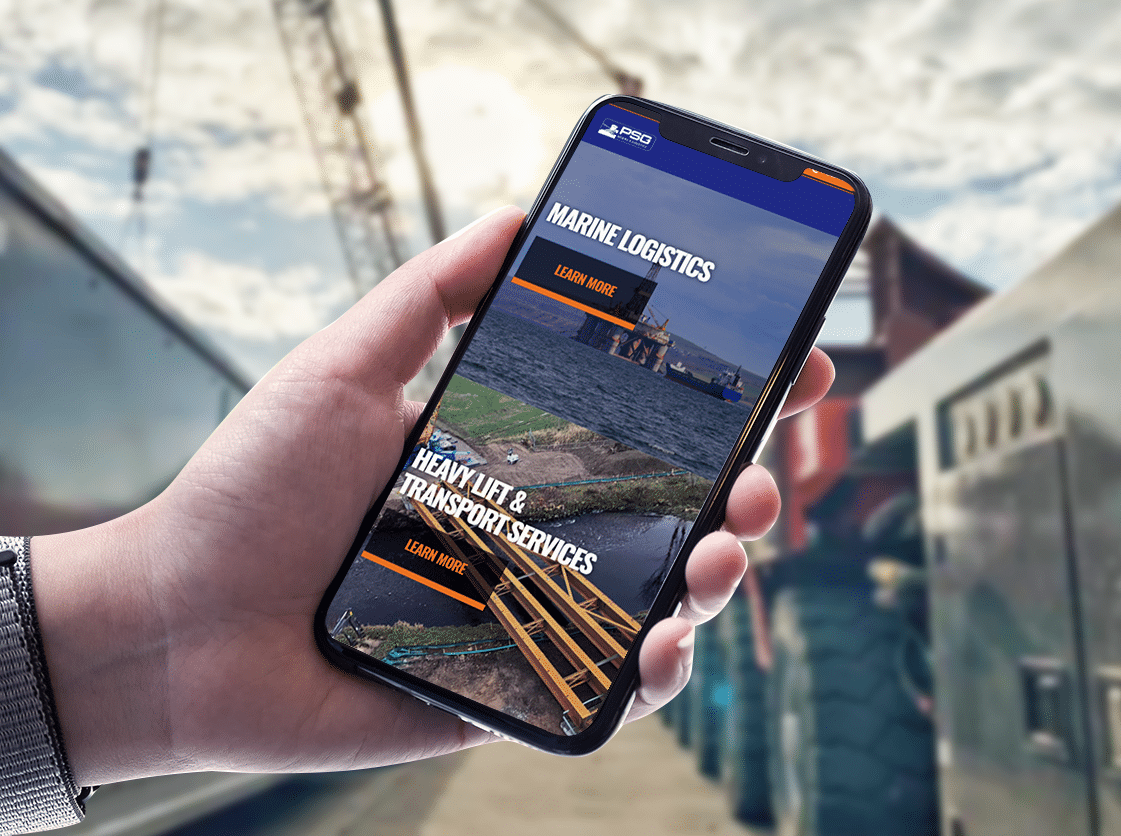 Upon entering the site, visitors are greeted by a full-screen background video featuring drone footage of PSG's site in Invergordon, as well as the day-to-day port servicing operations the firm is known for.
Importantly the site needed to showcase the latest news at PSG, with the homepage acting as a bulletin board where news about project completions, new equipment and vessels and rig arrivals is featured.
Search visibility is one of the most crucial factors in modern web design, and PSG's site has been built for Search Engine Optimisation (SEO) at its heart. Thanks to a highly optimised design as well as optimised content backed up by super-fast hardware, PSG performs at a high level on search engines such as Google.

SEO and site performance from neilpatel.com
The above screenshot shows the result of an independent SEO audit as well as the result of a website speed and performance test. Ever wondered how the performance of site affects SEO? Read our "Attack Of The Killer Rankings" article to discover a few of the hidden benchmarks used by Google to determine your site's search position.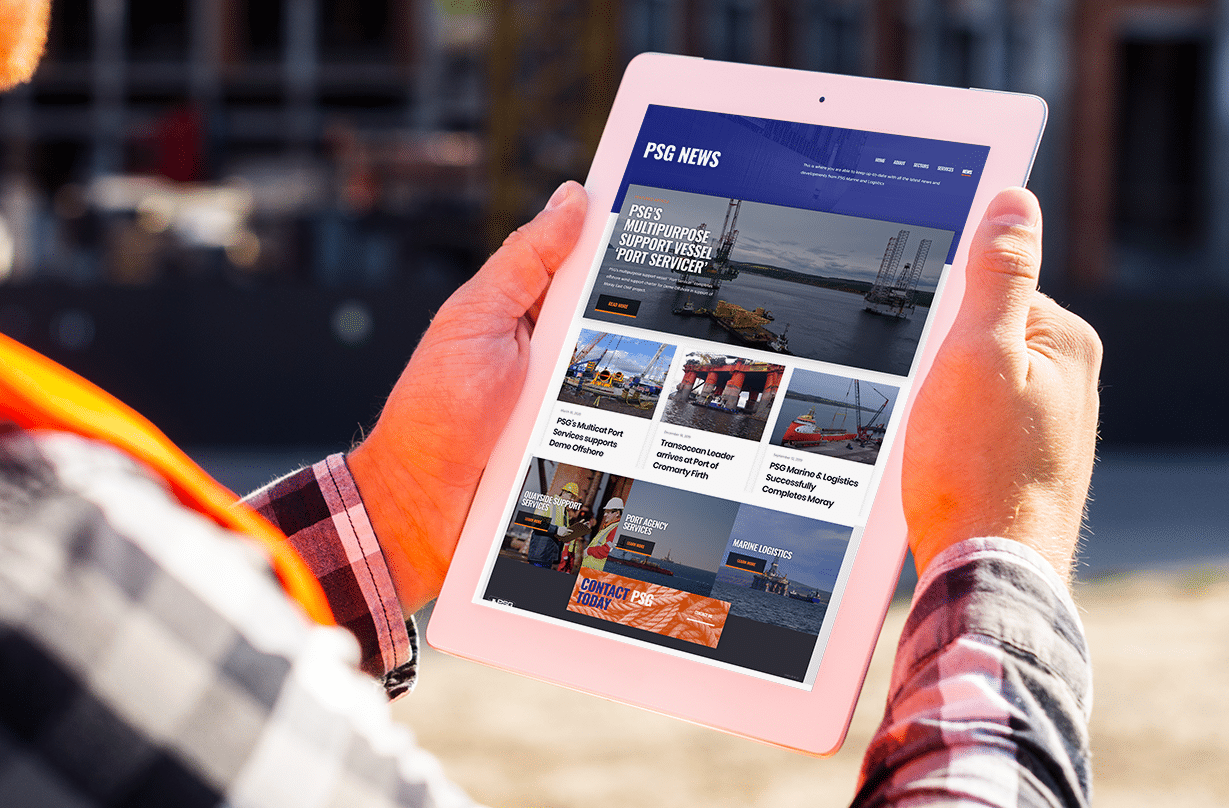 After initially being approached to re-brand PSG, Velocity went to work researching the company to ensure that the new branding brings PSG's identity up to date while reflecting their ties to both their sector and the local area. The new PSG logo can be seen on the company's building signage and vehicles, as well as specialist cranes and service vessels. In addition marketing collateral and print materials such as business cards and folded leaflets have been produced featuring the up-to-date branding.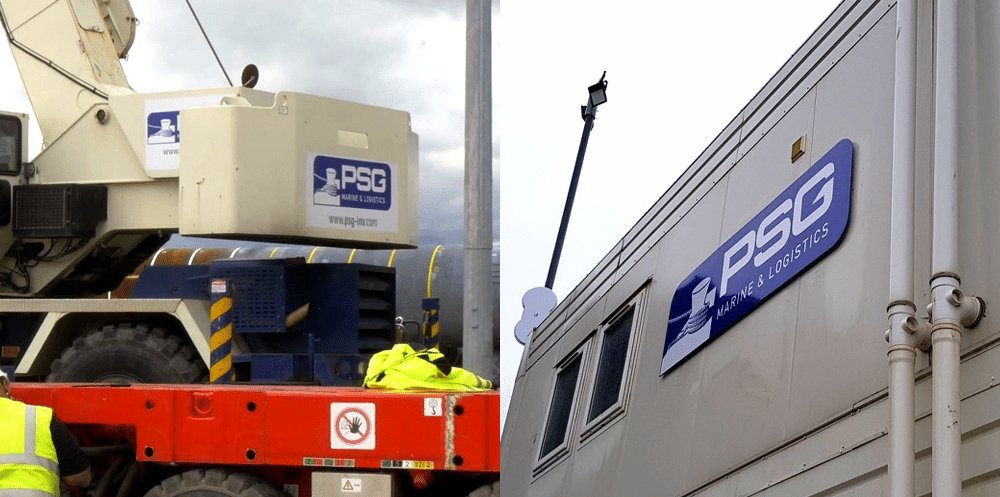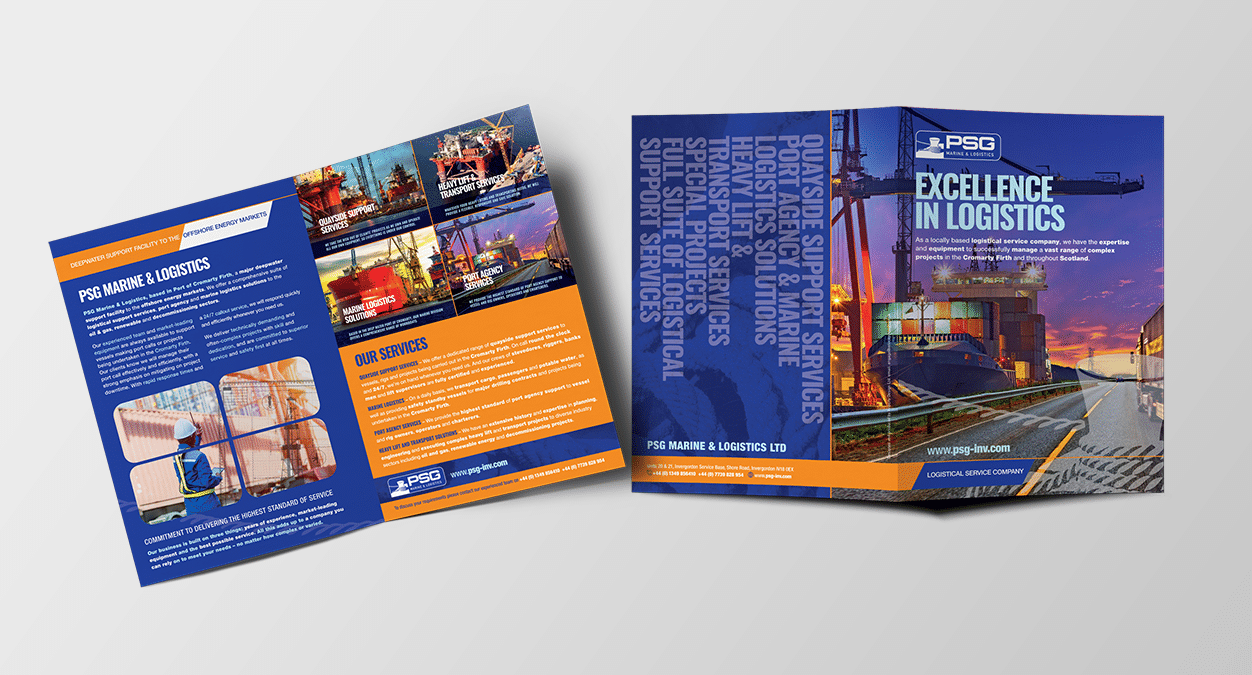 Steve Clark of PSG went on to post the following testimonial on Velocity's Google review page;
"We commissioned Velocity to re-brand PSG, including website, SEO, brochures, advertising plus vehicles/signage. The team are great, they support our business like no other agency we have worked with – nothing is too much trouble. Would highly recommend."

Steve Clark, PSG Marine & Logistics Ltd ⭐⭐⭐⭐⭐
Velocity Design is continuing to work with PSG, promoting the business through the production of print and online marketing materials, and performing continual analysis and optimisation of the website with dedicated SEO. We're looking forward to seeing how PSG continues to go from strength to strength as they grow their operations in Invergordon. Visit PSG online at www.psg-inv.com and be sure to check out the PSG Marine & Logistics Facebook page to see their latest news.
And if you would like to find out more about improving your business' online presence, our friendly, expert team will be happy to offer help and advice — contact Velocity.Design today at engage@velocitydesign.co.uk or call us on 01463 861467.